Asian Insurers, Increasingly Influential Property Investors-Mainland Chinese Insurers Follow Taiwanese and Koreans-
Asian Insurers, Increasingly Influential Property Investors-Mainland Chinese Insurers Follow Taiwanese and Koreans-
mamoru masumiya 
■Introduction

Asian insurers have noticeably increased property investments in recent years. Following active Taiwanese and Korean insurers, mainland Chinese insurers have started property investments since the deregulation in 2010. However, financial markets have become volatile since the latter half of 2015. It is interesting to check how active Asian insurers have invested into properties under these risk sensitive market conditions.

■Contents

1―Introduction
2―Peak-out of Property Transaction Volume
3―Property Investments by Asian Insurers
4―Growing Asian Insurance Markets
5―Acceleration to Invest into Properties
6―Final Note
1―Itroductionn
Asian insurers have noticeably increased property investments in recent years. Following active Taiwanese and Korean insurers, mainland Chinese insurers have started property investments since the deregulation in 2010. However, financial markets have become volatile since the latter half of 2015. It is interesting to check how active Asian insurers have invested into properties under these risk sensitive market conditions.
2―Peak-out of Property Transaction Volume
Property investment markets had increasingly become active for several years, however, the global property transaction volume finally peaked out in 2015 (Chart-1). The reason was a significant decline in the Asia Pacific region for the second consecutive year due to Chinese economic uncertainty.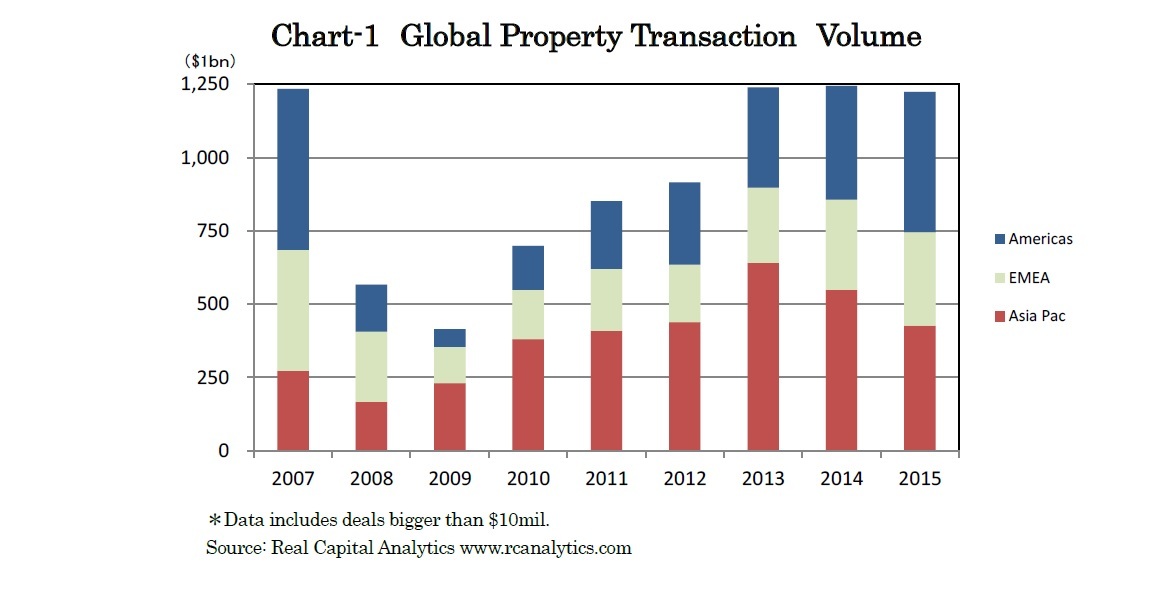 However, the property transaction volume in the Asia Pacific region has been mostly explained by land for development (Chart-2), which does not necessary represent the trend of investor activities. In particular, land for residential development in mainland China has been a predominant factor, which had ballooned in expectation of the demand growth from rapidly increasing middle income households, however, it peaked out in 2013 suppressed by governmental control and the economic slowdown.
Checking the trend of investor activities, the transaction volume of income-producing properties also already peaked out in 2014 and declined significantly in the first half of 2016. It looks like investors have become risk-sensitive and are no longer as aggressive about property investment as before due to Chinese economic uncertainty and declining local currencies.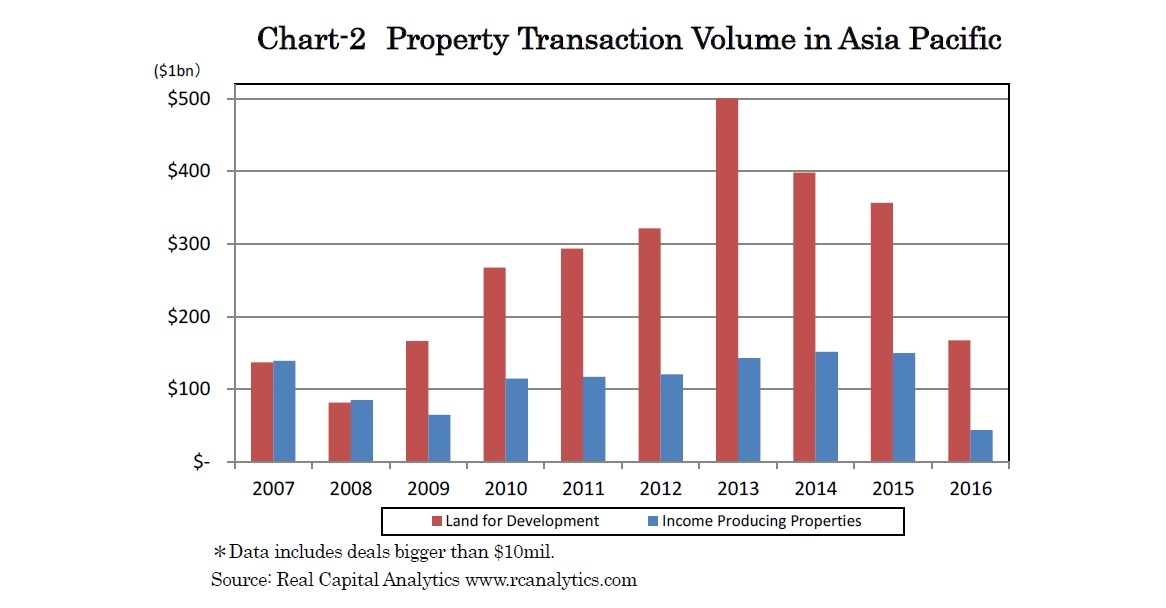 mamoru masumiya
Research field


レポート紹介
研究領域

経済

金融・為替

資産運用・資産形成

年金

社会保障制度

保険

不動産

経営・ビジネス

暮らし

ジェロントロジー(高齢社会総合研究)

医療・介護・健康・ヘルスケア

政策提言

注目テーマ・キーワード

統計・指標・重要イベント

媒体