Japanese Property Market Quarterly Review, Third Quarter 2015-Markets Steady but Some Weaknesses Creeping In-
Japanese Property Market Quarterly Review, Third Quarter 2015-Markets Steady but Some Weaknesses Creeping In-
mamoru masumiya 
Hotels, which can benefit more from the foreign visitor increase than retail stores, have maintained the highest occupancy rates in recent years for every month this year (Chart-22).
According to Ota Publications, as hotel occupancy rates in Urayasu and Kyoto surpassed 95% in August and September, most hotel rooms were often fully reserved in many cities. Not only have occupancy rates increased but room-rates have also been raised, and according to STR Global, the RevPAR of Japanese hotels in August grew by +14.7% y-o-y to 16,455 JPY.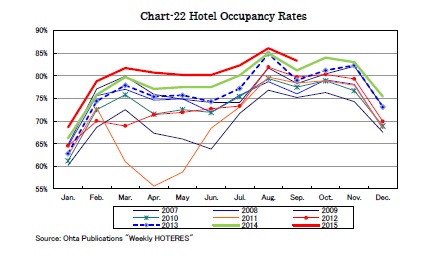 The logistics leasing market has been sustained by increasing demand. Vacancy rates of large logistics facilities for multi-tenants in the Tokyo and Osaka metropolitan area improved from 3.6% to 3.5% and from 4.8% to 4.5%, respectively (Chart-23).
Only one facility, Shinkiba Butsuryu Center, was completed in the Tokyo metropolitan area, and the modest supply pushed the vacancy rates down. On the other hand, a giant facility, GLP Naruohama with a GFA of 110,373m
2
, was completed in the Osaka metropolitan area. However, strong demand absorbed the vacant spaces of new facilities completed in the first half of this year and the vacancy rates continued improving.
In the Tokyo metropolitan area, a gigantic volume of new supply is scheduled in the fourth quarter followed by a series of sizable new supply throughout 2016. Although strong demand is expected to absorb parts of the new supply, it seems that vacancy rates will continue to rise for the time being.
In the Osaka metropolitan area, no new supply is scheduled in the fourth quarter. However a sizable supply will come in the latter half of 2016 and vacancy rates will turn upward.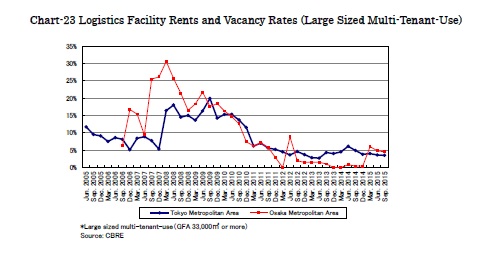 4.Property Investment and J-REIT Markets
The TSE REIT Index declined by 7.0% in the third quarter on the back of the uncertain business conditions in China and loosened liquidity by a series of public offerings. The office sector declined by 4.0%, residential by 11.7% and others – including retail and logistics – by 8.5% (Chart-24). At the end of September, the J-REIT market value was 10.0 trillion JPY, while the price to NAV ratio was 1.3 times and the dividend yield was 3.5%, with a 3.2% yield spread on ten year JGBs.
J-REITs acquired properties amounting to 340 billion JPY in the third quarter, totaling 1.2 trillion JPY in 2015. Despite high property prices making transaction activity difficult, the total acquisition amount has been larger than last year (Chart-25). Japan Senior Living Investment Corporation, as the third Japanese healthcare REIT, was listed with 14 assets of 28 billion JPY, bringing the number of J-REITs to 51.
Net Operating Income of office buildings owned by J-REITs still declined by 0.9% h-o-h in the first half of 2015 even with rising office rents (Chart-26). Compared with the conditions when J-REIT's office NOI improved somewhat the last time from 2005 to 2008, the current pace of rent increase is slower, the areas where rents are rising are limited and J-REIT buildings have lost competitiveness to new buildings. Now that office demand has shown weakness, it has become more important for managers of J-REITs to work out how to improve the NOI of their office buildings regardless of the office rent trend.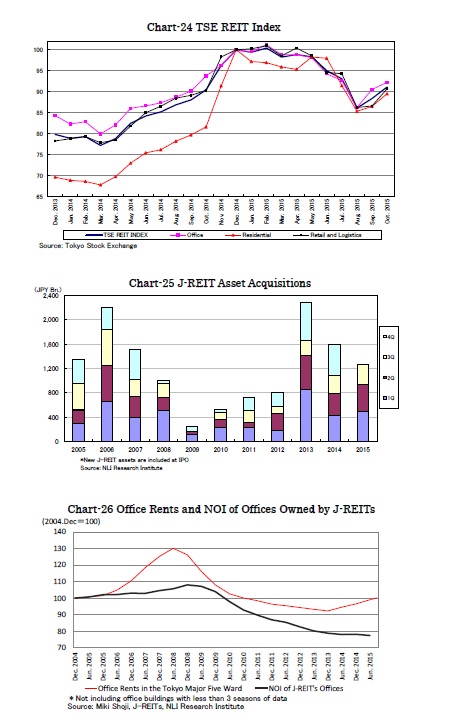 Transactions in the property investment market have been active this year as J-REITs have increased acquisitions (Chart-27). However, the total transaction amount this year has fallen short of that in 2014 when an exceptionally large amount of more than 5 trillion JPY in properties was transacted.
Foreign investors acquired Japanese properties aggressively at the beginning of this year including the case of Meguro Gajoen, however, the pace of acquisitions has since become more moderate. Considering the large amount acquired in the fourth quarter of 2014, the yearly amount acquired by foreign investors in 2015 will post a negative growth without very large acquisitions in the fourth quarter.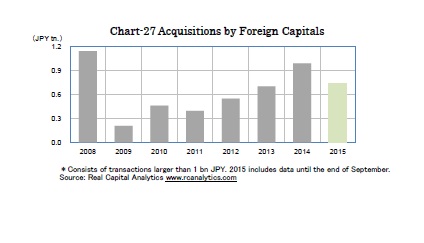 mamoru masumiya
Research field

レポート紹介
研究領域

経済

金融・為替

資産運用・資産形成

年金

社会保障制度

保険

不動産

経営・ビジネス

暮らし

ジェロントロジー(高齢社会総合研究)

医療・介護・健康・ヘルスケア

政策提言

注目テーマ・キーワード

統計・指標・重要イベント

媒体