Japanese Property Market Quarterly Review, Third Quarter 2015-Markets Steady but Some Weaknesses Creeping In-
Japanese Property Market Quarterly Review, Third Quarter 2015-Markets Steady but Some Weaknesses Creeping In-
mamoru masumiya 
2.Land Prices
Regarding "Kijun Chika," national land prices as of July 1, 2014 by MLIT, land prices in the three major metropolitan areas of Tokyo, Osaka and Nagoya appreciated for the second consecutive year, with commercial and residential land prices posting 1.8% and 0.4% y-o-y respectively (Chart-9). However, land prices in other local cities still continued declining, with commercial and residential land prices posting -1.4% and -1.1% y-o-y respectively (Chart-9). The recovery in the three major metropolitan areas finally brought the declining of the national average commercial land price to a stop for the first time since 2008.
According to Nomura Real Estate Urban Net, the average residential land price in the Tokyo metropolitan area appreciated for the eighth consecutive quarter, posting 0.3% q-o-q growth (Chart-10). Residential land prices in the Tokyo 23 wards and greater Tokyo still rose by 0.7% and 0.9% q-o-q respectively, however, it looks like those in the surrounding prefectures of Kanagawa, Saitama and Chiba have already faced difficulties in rising.
Among commercial land prices in the center of Tokyo, those in Ginza appreciated noticeably recovering to the level seen in 2008 (Chart-11).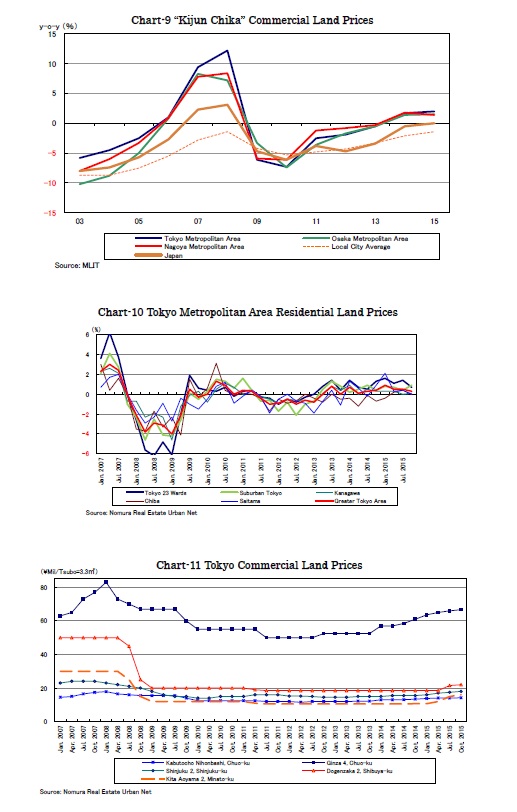 3.Sub-sectors
1) Office
Vacancy rates of Tokyo grade-A
1
offices and very large sized offices in the Tokyo major three wards improved by 0.8% and 0.3% q-o-q to 4.0% and 3.7%, respectively, in the third quarter (Chart-12). Moreover, the rising of Tokyo grade-A office rents accelerated, even at a high level, as the office rent index of Tokyo grade-A offices grew by 6.8% q-o-q to 35,652 JPY.
On the other hand, Tokyo grade-B office rents rose only mildly, even though the vacancy rates have improved to a very low level (Chart-13). It seems the market polarization has become increasingly noticeable these few years and more corporate tenants tend to focus on grade-A offices.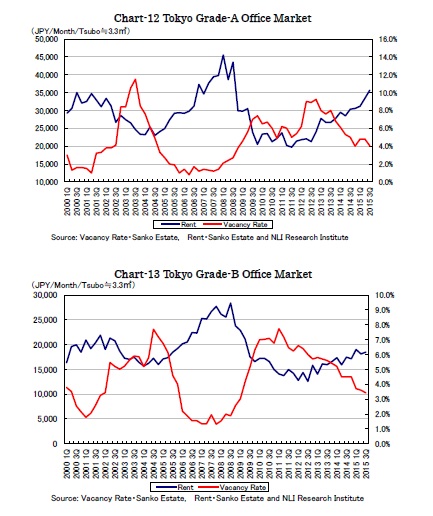 The recent improvement of office vacancy rates has been based on the decrease in office stock, which is apparently different from when it was driven by increasing occupied spaces in 2013 and 2014 (Chart-14). The weak demand has also been noticeable in the new building market. Vacancy rates of new office buildings have outnumbered the peak in 2012 when new building supply swelled significantly (Chart-15). The supply volume this year has been much less than that which was seen in 2012, however, weak demand has made it difficult for new buildings to secure tenants before completion.
Though the low vacancy rates and rising rents are still explaining the strong market, the office demand has weakened affected by the equity market fluctuation from the end of August. From now on, considering the uncertain business conditions in China, the US interest rate hike and the raising of the domestic consumption tax, it has become increasingly difficult to expect the trend in rising office rent to continue.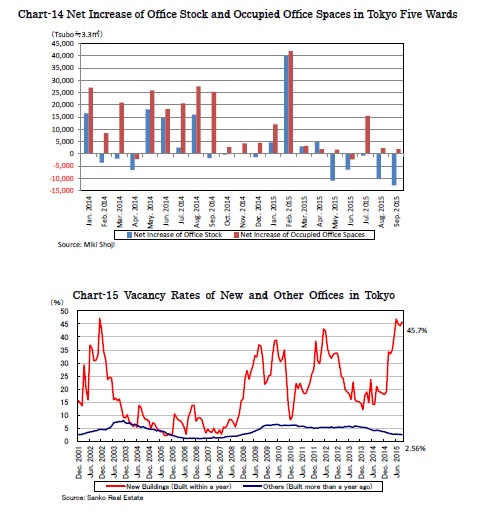 ---
1 Higher-spec buildings within the very large sized category by Sanko Estate Grade-A-Office Guidelines, urban area Tokyo five wards, main office areas and other specially integrated areas, with total floor areas of more than 33,000 m2, main floor sizes of more than 990 m2, building age of 15 years or less (including some well-refurbished older buildings), facilities with ceiling heights of 2.7m or more, individual air-conditioning, earthquake resistance and environmental friendliness.
mamoru masumiya
Research field


レポート紹介
研究領域

経済

金融・為替

資産運用・資産形成

年金

社会保障制度

保険

不動産

経営・ビジネス

暮らし

ジェロントロジー(高齢社会総合研究)

医療・介護・健康・ヘルスケア

政策提言

注目テーマ・キーワード

統計・指標・重要イベント

媒体