Structural Changes in the Home Market for Video Games
Structural Changes in the Home Market for Video Games
Social Development Research Department  Deputy senior researcher Masaharu Aoyama 
Japan's video game industry is presently undergoing two types of structural change: changes in the market structure due to competition within the industry, and full-fledged structural changes as electronics companies move into the home digital market. The information technology industry in the U.S., having already taken digitization into the office market, has begun focusing on the last remaining untapped market−living rooms−. Strategic resources being developing for the home market concern entertainment content such as games, movies, and sports programming. In this paper, we look at how this situation will affect the prospects for Japan's video game industry.
1. Important Developments in the Video Game Industry
(1) Background
Today's home video games have their origin in computer games developed at U.S. universities in the 1960s. In the 1970s, Atari and other manufacturers helped popularize video games in arcades and homes. However, after a flood of imitation software hit the market, the U.S. market contracted in the early 1980s. Japanese companies entered this field in earnest in the late1970s, and Japan's combined home and arcade game market grew to 1.274 trillion yen by 1996 (Figure 1). Of this, hardware and software for the home game segment accounted for 698 billion yen. The diffusion of home game machines began in earnest with the sale of Nintendo's "family computers" in 1993. When the growth of game arcades faltered under the enactment of stricter arcade regulations in 1985, the home market posted strong growth. Family computers became a hit product by transplanting popular arcade games such as "Donkey Kong" and "Super Mario." The home game market enjoyed an expansion phase from the 1980s to early 1990s under Nintendo, while in foreign markets Nintendo and Sega had a dominating presence.
There are several explanations of why Japanese firms established global superiority in game markets. One ascribes Japan's success to its "manga" animation culture, which provided a cultural underpinning for the development of the game industry. A second explanation contends that the the concentration of electronics and machinery industries, together with the dominating position of Nintendo, helped the home game market quickly acquire a sound footing through production of low-priced dedicated game machines.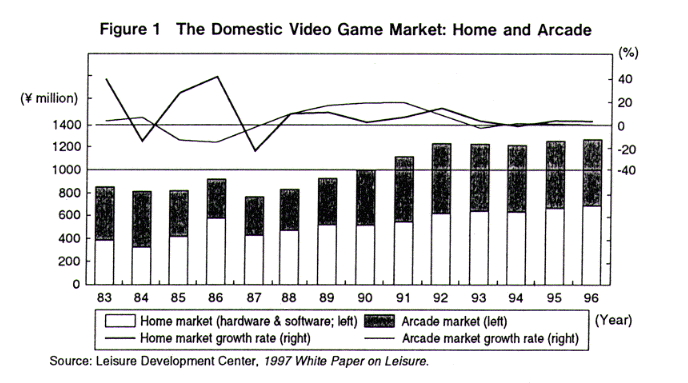 (2) Two Structural Changes in the Video Game Industry
The first structural change involves the market structure, which changed in the mid 1990s primarily because of the success of the "PlayStation (PS)" from Sony Computer Entertainment (SCE). In the past couple of years, SCE's emergence has drastically altered the previously Nintendo-centered market structure.
SCE introduced the 32-bit PS machine in late 1994, the same time that Sega also introduced the Sega Saturn (SS). The two machines competed head to head with the same specifications and price range, and the PS emerged as the clear victor. The PlayStation's success can be attributed to three factors: (1) gaining a superiority in game software titles by recruiting more software houses through favorable contract terms and generous technical support; (2) tapping the resources of Sony and parent company Sony Music for production and distribution of game machines and CD-ROMs; and (3) drawing on Sony's strong brand image.
Furthermore, the addition of two best-selling game titles to the PS lineup−Square's "Final Fantasy VII," followed by Enix's "DragonQuest VII" slated for 1998−have added momentum to PS sales. These developments reveal what might be called the "supremacy of software"−the ability of popular game titles to strongly affect hardware sales.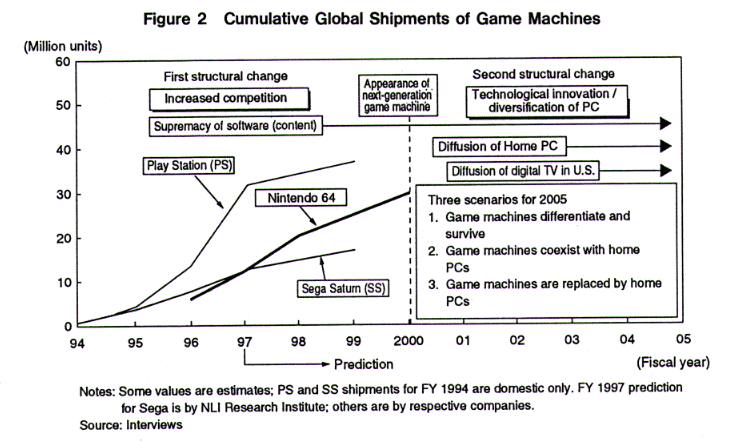 (3) The Next Generation of Game Machines
In June 1996, Nintendo introduced its 64-bit "Nintendo 64" and shipped a record 6.12 million units worldwide, with plans to reach 12 million units by the end of fiscal 1997.
Meanwhile, SCE shipped 13.5 million PS units worldwide as of the end of March 1997, and plans to ship another 18 million units in fiscal 1997, for a cumulative total of 31.5 million units by the end of fiscal 1997. When PS sales peak out around fiscal 1997, the two 32-bit machine makers will upgrade to the next generation of machines from 1998 to 1999. It remains to be seen whether the PS will maintain compatibility with existing software, or take a new approach.
Sega's SS also posted respectable results, reaching an aggregate total of 7.56 million units as of the end of fiscal 1996. Since Sega and Bandai have scrapped their merger plans, attention will focus on how Sega will evolve based around the SS, and whether Bandai will continue with its Pippin multimedia terminal.
---
2. The Full-Fledged Digitization of Living Rooms
(1) Personal Computers and the Second Structural Change
A second major structural change has begun with signs that the market for games using personal computers (PC) will expand. While Japan's home game market is centered around dedicated game machines and software, PC game software in the U.S. is challenging the dominance of dedicated machine software. The machine of the future will be called the "home PC," located in the living room and capable of accommodating a variety of media.
Dedicated game machines are normally used by several people in the family's living room. On the other hand, games for the PC are generally intended for one player due to the smaller display. Thus the prevailing view in the game industry is that there is a qualitative difference between games intended for the machine in the living room and the PC in the den, and that this "wall" between the living room and den will persist for another five years or so (Figure 3). Indeed, the image processing capability of today's dedicated game machines is superior to that of ordinary PCs, and game machines costing 20,000 yen are much cheaper than PCs. Considering also that the game market is dominated by young users, the growth of dedicated game hardware and software has enjoyed significant advantages over games for PCs.
However, the situation is slowly changing due to the emergence of PCs for the living room−the home PC and "PC theater". These products are basically PCs that are placed in the living room, connected to a large-screen TV, and used to play DVDs and CD-ROMs or to access the Internet. Games will be an important strategic content for the development of the home PC market.
The home PC is expected to take some time to become recognized by the market and grow. But it will certainly have the effect of tearing down the wall between the living room and den from the side of the PC industry (Figure 3). This is the sign of the second structural change in the game industry−a major change in the external information environment.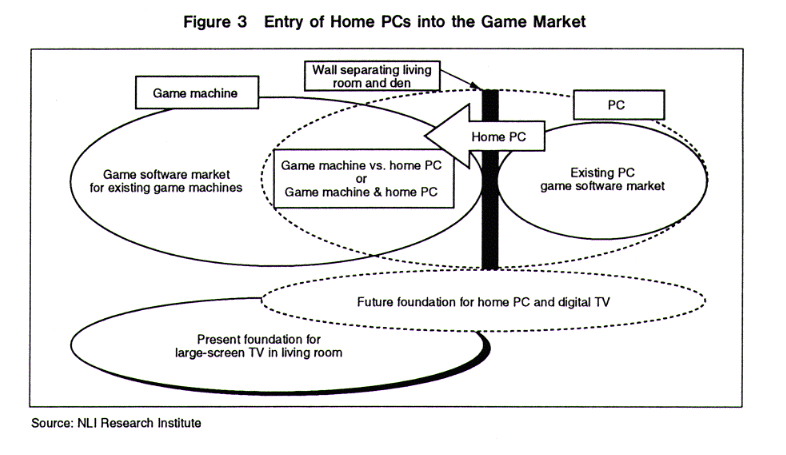 (2) Emergence of a Common Home Platform
On April 28, Compaq Computer of the U.S. announced a new product called the "PC Theater" at a price of approximately $5,000. It consists of a Thompson RCA brand 36-inch high-resolution CRT display, an Intel MPU with enhanced image processing capability, DVD, wireless keyboard, remote control and keypad for games.
The product specifications are almost identical with a product introduced earlier by NEC in March called the "Celeb" (698,000 yen), which consists of a PC and 28-inch wide-screen BS TV. In addition, Toshiba introduced its "Vision Connect" (248,000 yen) in June, which consists of a home PC with a DVD and an optional game pad.
To raise awareness of the home PC, companies are emphasizing its game function, which is an important element in entertainment for living rooms. In the future, many home electronics makers are expected to announce home PCs based on the same concept.
Home PCs are presently in the test marketing stage, and will continue to improve in performance and price, while CD-ROM and DVD software offerings are also being enhanced.
Over the next three to five years, attention will be focused on how well home PCs with unified standards will penetrate into homes, laying the foundation for games that can be played on large-screen TVs.
Looking at the global market beyond 2000, the volume of game software for PCs is predicted to grow dramatically. With the diversification of PCs, the development and conversion of game software for PCs by Japan's software houses is expected to become full-fledged in the near future.
(3) Digital Television (DTV) Moves Ahead in the U.S.
In April 1997, the FCC spurred the development of digital TV with its decision to initiate terrestrial digital broadcasting in the second half of 1998, and to phase out conventional broadcasting by around 2006. In Japan, where advances have occurred in high-definition and wide-screen television, DTV development has not received much fanfare. However, the FCC decision has prompted Japanese electronics companies to become involved in DTV, and some companies have already announced plans to introduce new products.
In early April, Microsoft, Intel and Compaq announced a joint development project for DTV that would complete prototype development by the end of the year and begin mass production in 1998. The initial development concept is to build PCs that can receive digital broadcasting, but in the future DTV is expected to encompass other market areas including large-screen displays for the living room.
Judging from the rate of expansion of DTV broadcast areas in the U.S., the DTV market should gain momentum around 2000.
Since dedicated game machines are computers, we need to assume their future connectivity with DTV. However, since digital broadcasting can also be viewed with analog conversion, analog television sets are not likely to be immediately replaced by DTV sets. The impact on dedicated game machines is also not likely to appear soon. However, new services are expected to emerge in the future, such as the creation of a data broadcasting market using digital broadcasting, and content distribution services (Figure 4).
Since digitization will expand the demand for information content, it is expected to be a significant boost for content providers including game makers.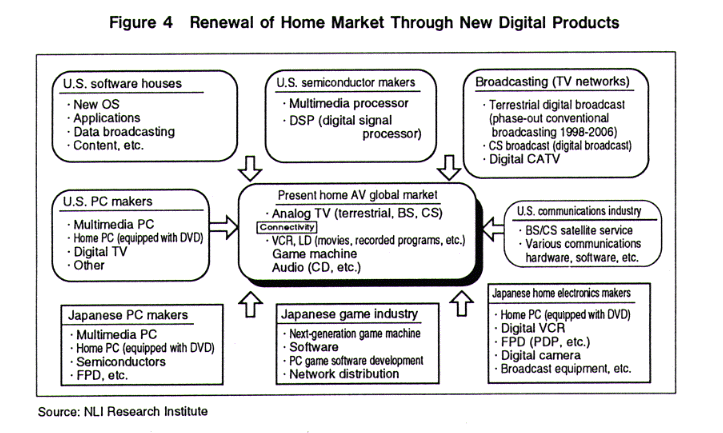 ---
3. Prospects for the Home Market for Games
(1) platforms
Based on trends in the electronics and information industries in the U.S. and Japan, the prospects for game platforms beyond 2000 can be summarized as follows:
Centered in the U.S., digitization has begun to spread beyond business-use PCs and networks and into home PCs and AV markets for living rooms;
Demand will be generated for various types of digital AV equipment with home PCs and DTV at the core.
The digitization of living rooms will gain momentum in the U.S. around 2000.
Thus looking at the prospects for the home game market from 2000-2005, there are three possible scenarios for dedicated game machines and home PCs based on their power relationship (Figure 2).
Game machines succeed in differentiating themselves from home PC games, and survive for another decade based on superior cost-performance.
Game machines coexist in the game market with home PCs (a multi-platform environment in which software houses supply separate versions to run on different platforms).
Home PCs improve in performance and eventually replace game machines.
At present, scenarios 1 and 2 appear most likely. In the medium term, if home PCs proliferate ahead of DTV and are hooked up to present analog televisions, it is also possible that a global PC game market base would be formed.
This possibility will become all the more likely if home PCs, equipped with DVDs that are CD-ROM-compatible, become available in the 100,000 to 200,000-yen price range. Their rapid proliferation both in Japan and abroad would also boost the DVD market. With the capacity of three to four CD-ROM disks, the DVD is also a promising packaging medium for the game software industry.
(2) The Importance of Content
Looking at the home game market in industrialized nations, although game machines are not likely to disappear between 2000-2005, we expect that the home PC will begin to steadily proliferate, and that many DVD and CD-ROM titles will be supplied for the PC platform.
However, a key assumption is that the game content is accepted and supported by the world's game users, with the content being high in quality and entertaining. If this is achieved, the game software industry may be able to move into a global game content market and digital movies through a global industry standard PC platform.
In the future, as more DVD and CD-ROM titles are introduced, and as information services become increasingly active, content will grow in importance. More than mode of delivery, the key determinant for success will rest on what content is offered and at what price.
In this regard, to further promote and develop content such as game software and animation as an aspect of Japan's culture, it will be necessary to provide various forms of support such as through industrial policy measures and tie-ups between businesses and universities.
Attention will focus on trends in game content providers, next-generation game machines, home PC penetration, and the relationship between game machines and home PCs.
Social Development Research Department    Deputy senior researcher
Research field

Repoprts lnquiry

03-3512-1796
レポート紹介
研究領域

経済

金融・為替

資産運用・資産形成

年金

社会保障制度

保険

不動産

経営・ビジネス

暮らし

ジェロントロジー(高齢社会総合研究)

医療・介護・健康・ヘルスケア

政策提言

注目テーマ・キーワード

統計・指標・重要イベント

媒体