Message
NLI Research Institute was established in July 1988 to commemorate the anniversary of Nippon Life Insurance Company. Since then, we have been involved in studies and research spanning a wide range of areas from domestic and international economics and finance, investment management, pension, welfare and employment to urban planning and international cooperation, not limiting our activities to the insurance field such as the future of the insurance industry or insurance companies.

The Japanese economy and society are now facing an unprecedented turning point due to the continued progression of a low fertility rate, aging population and declining population. We would like to address changes in industrial structures, securing international competitiveness, labor shortages, establishing sustainable social security programs, protecting the lives of individuals under radically changing social environments and pursuit of meaningful life over the medium- to long-term.

We believe that, under the wave of this social diversification and change, study and research with insight into the essence of the era and solution-oriented dissemination of information have become increasingly important.
NLI Research Institute, as a think tank of the Nippon Life Insurance Group, will put forth efforts to contribute to the economic prosperity of Japan and realization of a secure society and living through prompt dissemination of information utilizing our website, publications, books and other tools. We continue to conduct studies and research from a basic and long-term perspective. Through these efforts, we strive to fulfill our responsibility for the future as an "indispensable partner" of society.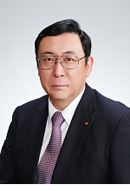 President
Tsuneaki TESHIMA
NLI Research Institute