Japanese Property Market Quarterly Review,Second Quarter 2015-Housing Starts Recover, Foreign Visitors Boost Hotel and Retail-
Japanese Property Market Quarterly Review,Second Quarter 2015-Housing Starts Recover, Foreign Visitors Boost Hotel and Retail-
Financial Research Department Economic Research Department Researcher Kazumasa Takeuchi 
■Summary
Japan's real GDP shrank due to declining exports in the second quarter for the first time in three quarters. Construction costs have remained at a high level even after the somewhat eased labor shortages halted the surging trend. Housing starts have turned to a strong growth from the stagnation which continued ever since last year's consumption tax hike.

Office vacancy rates have improved in major cities. While Tokyo's grade-A office rents rose by 7.1% q-o-q in the second quarter, the grade-B rents declined by 4.6%. Although the absorbed volume has been moderate recently, office demand still looks healthy with preleasing activities seen in new buildings to be completed in the second half of the year.

Residential rents have been on the upward trend. Hotel occupancy rates have remained very high, supported by the growing number of foreign visitors and local travelers. Foreign visitors have also contributed to retail sales especially in urban department stores. The demand for large logistics facilities has remained strong with no vacant spaces left in Tokyo Bay area.

The J-REIT market declined by 3.3% in the second quarter, affected by the volatile bond market and the Greek debt crisis. J-REITs have acquired even more assets than last year despite difficult low yield conditions.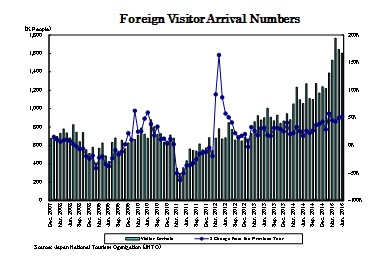 Financial Research Department   Economic Research Department Researcher
Research field

Repoprts lnquiry

03-3512-1847
レポート
研究領域

経済

金融・為替

アセットマネジメント

年金

社会保障制度

保険

不動産

経営・ビジネス

暮らし

ジェロントロジー(高齢社会総合研究)

注目テーマ・キーワード

統計・指標・重要イベント

媒体