Life >
Japanese Property Market Quarterly Review, Fourth Quarter 2014 - J-REITs Soar for Third Year and Office Demand Expands-
Japanese Property Market Quarterly Review, Fourth Quarter 2014 - J-REITs Soar for Third Year and Office Demand Expands-
Financial Research Department Economic Research Department Researcher Hiroto Iwasa 
■Summary
Following negative GDP growth numbers in the second and third quarters, the government decided to suspend the next consumption tax hike and the Bank of Japan prepared additional monetary loosening measures. Despite the recent recovery in corporate activity and labor markets, the housing market remains stagnant. Housing starts decreased for the first time in five years and both new condominium sales and secondary condominium transactions shrank in 2014. On the other hand, land price appreciation expanded from the three major metropolitan areas to other cities.

Office vacancy rates in Tokyo have improved significantly pushed by strong demand, and office rents have also been on an ascending trend. Residential rents in Tokyo have gradually been rising. Foreign visitor arrivals increased by 29% to 13.4 million in 2014, resulting in the maintaining of very high hotel occupancy rates. Logistics vacancy rates have been stable at a very low level.

The TSE REIT Index rose by 25.3% in 2014 for the third consecutive year of significant appreciation. J-REITs acquired property assets of 1.6 trillion JPY and market value expanded to 10.5 trillion JPY with 49 J-REITs listed. Property investments have been active, with transaction volumes exceeding 4 trillion JPY for the second consecutive year.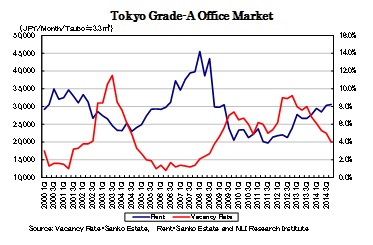 Financial Research Department   Economic Research Department Researcher
Research field

Repoprts lnquiry

03-3512-1858
レポート
研究領域

経済

金融・為替

アセットマネジメント

年金

社会保障制度

保険

不動産

経営・ビジネス

暮らし

ジェロントロジー(高齢社会総合研究)

注目テーマ・キーワード

統計・指標・重要イベント

媒体